So, here we have 4 pictures from the Upfronts, and All Star Party. We've got 2 returning stars, and also 2 casts for new shows!

-You have until Monday August 6th13th at Noon PST to get your submissions in.
-Your icons must not have been posted anywhere prior to the challenge, and may not be posted anywhere until winners are announced.
-Enter by commenting on this post with your icon as an image, and the url. See an example in the User Info.
-You cannot tell anyone which icon is yours.
-You may enter 3 icons.
-Your icons must fit LJ standards.



Erica Durance, "Smallville" | Hilarie Burton, "One Tree Hill"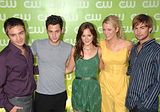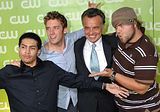 The cast of "Gossip Girl" | The cast of "Reaper"